ARRANGED BY NELSON RIDDLE
Nelson Riddle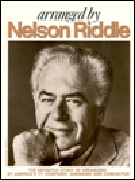 Cat #: AL-IF0127
Retail Price: $34.95
Our Price: $27.96
This item usually ships within 5 to 7 business days.
Questions?
Please call 1-518-587-1102 or email us.
Edition: Paperback Book
Description: 204 Pages
The definitive study of arranging by America's premiere composer, arranger and conductor. A 'must' for every musician interested in a greater understanding of arranging. Includes chapters on instrumentation, orchestration and Nelson Riddle's work with Sinatra, Cole and Garland. Two-hundred pages with biography and pictures.