CHRISTMAS CAROL CLASSICS
Jazz Takes a Holiday; Jamey Aebersold Jazz Play-A-Long Volume 125
Various Composers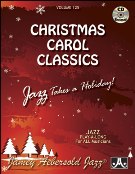 Cat #: JA-V125DS
Retail Price: $16.90
Our Price: $13.52
This item usually ships within 5 to 7 business days.
Questions?
Please call 1-518-587-1102 or email us.
Edition: Paperback Book & CD Package, All Instruments
A fantastic collection of 17 traditional carols - accompanied by a superb piano, bass, and drum trio - with a tasteful jazz flair. A refreshing approach to familiar, sentimental melodies and fun to play.
Auld Lang Syne
Away In A Manger
Deck The Halls
Greensleeves (What Child Is This?)
God Rest Ye Merry Gentlemen
Go Tell It On The Mountain
Hark The Herald Angels Sing
It Came Upon A Midnight Clear
Jingle Bells
Joy To The World
O Come All Ye Faithful
O Little Child Of Bethlehem
Silent Night
The First Noel
Up On The Housetop
We Three Kings
We Wish You A Merry Christmas
Steve Allee- (p)
Tyrone Wheeler -(b)
Jonathan Higgins-(d)