CY COLEMAN ANTHOLOGY
Cy Coleman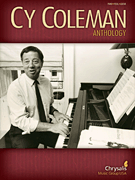 Cat #: 00313434
Retail Price: $19.95
Our Price: $15.96
This item usually ships within 5 to 7 business days.
Questions?
Please call 1-518-587-1102 or email us.
Edition: Paperback Book, Piano/Vocal/Guitar
Description: 240 Pages
With 26 musical shows and hundreds of songs to his credit, Cy Coleman is the gold standard of musical theatre perfection. This anthology features 50 of his greatest tunes.
Baby Dream Your Dream
Be A Performer
The Best Is Yet To Come
Big Spender
City Of Angels - Theme
The Colors Of My Life
Come Follow The Band
Firefly
Here's To Us
Hey, Look Me Over
Hey There, Good Times
I Love My Wife
I Walk A Little Faster
I'm A Brass Band
I'm Gonna Laugh You Right Out Of My Life
I'm In Love Again
I've Got Your Number
If My Friends Could See Me Now
It Amazes Me
It's Not Where You Start
Join The Circus
Little Me
Lost And Found
A Moment Of Madness
My Personal Property
Never Met A Man I Didn't Like
Nobody Does It Like Me
The Other Side Of The Tracks
Our Private World
Playboy's Theme
Poor Everybody Else
Real Live Girl
The Rhythm Of Life
The Riviera
Rules Of The Road
Seesaw
Someone Wonderful I Missed
Southern Comfort
Stay With Me
Then Was Then And Now Is Now
There's Gotta Be Something Better Than This
When In Rome (I Do As The Romans Do)
Where Am I Going
Why Try To Change Me Now
Witchcraft
With Every Breath I Take
You Can Always Count On Me
You Fascinate Me So
You There In The Back Row
You're Nothing Without Me