DAVE BRUBECK'S TWO-PART ADVENTURES
Dave Brubeck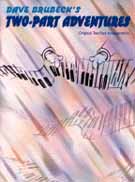 Cat #: AF9837
Retail Price: $10.95
Our Price: $10.40
This item usually ships within 5 to 7 business days.
Questions?
Please call 1-518-587-1102 or email us.
Edition: Paperback Book, Piano
Description: 52 Pages Dave Brubeck has penned 20 new two-part arrangements (one note in each hand) for this new and exciting book. Some of the compositions are Brubeck's own favorites, songs like:
Brandenburg Gate
Dancin' In Rhythm
Fast Train
Joe Lovano Tango
Stompin' For Mili
Two-Part Contention
When The Moon Is High
and more...