EASY JAZZ GUITAR: VOICINGS AND COMPING
A Guitarist's Primer to Jamey Aebersold's Play-A-Long Volume 54 Maiden Voyage
Mike Di Liddo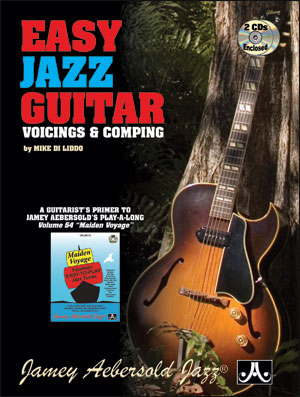 Cat #: EJG
Retail Price: $19.95
Our Price: $15.96
This item usually ships within 5 to 7 business days.
Questions?
Please call 1-518-587-1102 or email us.
Edition: Paperback Book & 2 CD Package, Guitar
A book and 2 CD set with super simple comping over the standards on Jamey Aebersold's Volume 54 "Maiden Voyage." (Also available, catalog number V54DS.)
Chords and voicings are explained in a manner that even the most novice guitarists will understand.
Includes demo and play-a-long CDs.
Book has both standard notation and guitar frames for every voicing.
This is a perfect prerequisite for "Maiden Voyage Guitar Comping", also by Mike DiLiddo. (Also available, catalog number MVG.)