FOR GUITAR PLAYERS ONLY
Tommy Tedesco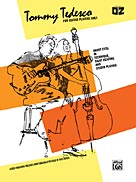 Cat #: 0-30469
Retail Price: $24.95
Our Price: $19.96
This item usually ships within 5 to 7 business days.
Questions?
Please call 1-518-587-1102 or email us.
Edition: Paperback Book, Guitar
For Guitar Players Only is one of the most unique books ever written for guitar. Legendary studio guitarist Tommy Tedesco shares his personal hints and exercises for improving picking technique and sight reading abilities, while offering countless other inside tips that will further your guitar career. The book includes actual parts that have been recorded for movies, television, albums, and commercials.