HOLIDAY SONGS FOR BEGINNING STRING ORCHESTRA
Strings Charts Series
Arranged by Renata Bratt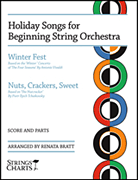 Cat #: 00333150
Retail Price: $42.95
Our Price: $34.36
This item usually ships within 5 to 7 business days.
Questions?
Please call 1-518-587-1102 or email us.
Edition: String Orchestra
Description: Level: 2-3
Want to add a sparkle to your string orchestra holiday program?
These fun and inventive arrangements are perfect for a Level 2-3 ensemble.
"Winter Fest" is a fantasia of tunes from Vivaldi's "Winter" concerto from The Four Seasons, spiced up by a liberal dusting of idiomatic rock phrases.
"Nuts, Crackers, Sweet" packages three tunes from Tchaikovsky's The Nutcracker – the Overture, the March, and the "Russian Dance" – paired with the fiddle tunes "Cripple Creek" and "Cluck Old Hen."
Add these festive pieces to your school's holiday repertoire!
Parts include: 8 Violin I, 8 Violin II, 3 Viola, 8 Violin III (Viola substitute), 5 Cello, 3 Double Bass.