HOW TO PLAY BASS GUITAR
Arnie Berle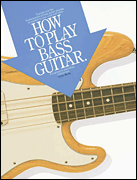 Cat #: 14015462
Retail Price: $14.95
Our Price: $11.96
This item usually ships within 5 to 7 business days.
Questions?
Please call 1-518-587-1102 or email us.
Edition: Paperback Book, Bass
Description: 80 Pages
A method of bass instruction that develops logically from the basics to technical and musical standards that open the doors to jazz, fusion, and rock.
With TAB.