IMPROVISING BLUES GUITAR
An Introduction to Blues Guitar Styles, Technique, and Improv
John Wheatcroft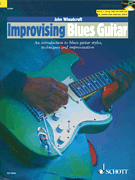 Cat #: 49017062
Retail Price: $27.95
Our Price: $22.36
This item usually ships within 5 to 7 business days.
Questions?
Please call 1-518-587-1102 or email us.
Edition: Paperback Book & CD Package, Guitar
Description: 224 Pages
This hefty book/CD pack gives an in-depth insight into blues guitar, from early Chicago blues through Memphis and Detroit blues, the British blues boom, jazz blues, and many other blues genres, right up to the blues styles of today's hottest guitarists. Focusing on the playing styles of influential guitarists, author John Wheatcroft teaches the basics of blues improvisation and shows how it has developed over the years. Learn how to solo like classical blues guitarists B.B. King, John Lee Hooker, and Albert Collins, and then move on to find out more about the playing styles of Eric Clapton, Jimi Hendrix, Stevie Ray Vaughan, Robben Ford, and many others.