INDIA.ARIE: LIVE IN BRAZIL
Music in High Places
India.Arie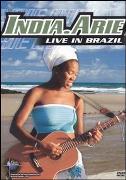 Cat #: 014381352627
Retail Price: $11.98
Our Price: $11.38
This item usually ships within 5 to 7 business days.
Questions?
Please call 1-518-587-1102 or email us.
Edition: DVD
Description: 59 Minutes
Part of the musical travel series Music in High Places, this title features soulful pop recording artist India.Arie traveling and performing in Bahia, Brazil. Includes the songs "Always in My Head," "I See the God in You," "Promises," "Video," and "Strength, Courage, & Wisdom."
Opening [1:09]
Spiritualism [1:19]
Always in My Head [3:24]
Feeling the Music [:43]
I See the God in You [3:12]
Capoeira [1:28]
Promises [4:22]
Emotion [1:50]
Beautiful [4:02]
The Market [1:00]
India's Song [3:33]
Drummers & Dancers [2:54]
Video [4:52]
Strength, Courage, & Wisdom [5:42]
Pelourinho, Salvador [2:19]
Behind the Scenes [15:59]
End Credits [1:03]
India.Arie - Vocals, Guitar
Tony Harrington - Guitar
Kerisha Hicks - Background Vocals
Ricky Quinones - Guitar
Forest Robinson - Drums