JAZZ GUITAR SINGLE NOTE SOLOING - VOLUME 2
Volume 2
Ted Greene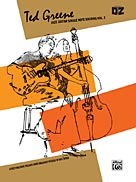 Cat #: 0-30472
Retail Price: $21.95
Our Price: $17.56
This item usually ships within 5 to 7 business days.
Questions?
Please call 1-518-587-1102 or email us.
Edition: Paperback Book, Guitar
Ted Greene's Jazz Guitar Single Note Soloing method is one of the most respected approaches to playing jazz guitar ever written. Continuing where Volume 1 left off, this book ties all the tools together, with special emphasis on playing through chord changes and developing rich melody lines.Note: Volume 1 also available, catalog number 0-EL02780.