LESTER YOUNG COLLECTION
Lester Young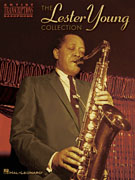 Cat #: HL-672524
Retail Price: $19.95
Our Price: $15.96
This item usually ships within 5 to 7 business days.
Questions?
Please call 1-518-587-1102 or email us.
Edition: Paperback Book, Saxophone
Description: 88 Pages
Nicknamed 'Pres? by Billie Holiday (short for President of the Tenor Sax), jazz giant Lester Young is considered to be one of the most important and influential saxophonists of all time. This great tribute folio transcribes 30 of his finest standards, together with a bio and discography. Includes:
A Sailboat In The Moonlight
Blue Lester
Broadway
Cherokee (Indian Love Song)
Doggin' Around
Every Tub
Exactly Like You
Honeysuckle Rose
How High The Moon
I Can't Get Started With You
I Don't Stand A Ghost Of A Chance
I Got Rhythm
I Must Have That Man
I Never Knew
I'm Confessin' (That I Love You)
Indiana (Back Home Again In Indiana)
Jumpin' At The Woodside
Jumpin' With Symphony Sid
Lester Leaps In
Oh, Lady Be Good!
On The Sunny Side Of The Street
One O'Clock Jump
Shoe Shine Boy
Sometimes I'm Happy
The Man I Love
These Foolish Things (Remind Me Of You)
This Year's Kisses
Three Little Words
Twelfth Street Rag
You Can Depend On Me