MANHATTAN TRANSFER 35TH ANNIVERSARY: THE GREAT AMERICAN SONGBOOK
Manhattan Transfer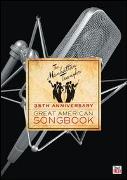 Cat #: 610583356298
Retail Price: $11.98
Our Price: $9.58
This item usually ships within 5 to 7 business days.
Questions?
Please call 1-518-587-1102 or email us.
Edition: DVD
Description: 30 Minutes
Vocalese-vocal harmony band The Manhattan Transfer almost singlehandedly resurrected a nostalgia craze during the 1970s and 1980s that brought boogie-woogie and doo-wop jazz back to the forefront of pop music culture, with arresting renditions of jazz standards. That outfit headlines this brief concert film, mounted to commemorate the 35th anniversary of the group's formation.Bonus features include exclusive, new interviews with The Manhattan Transfer and a photo gallery.
Route 66
Embraceable You
On the Sunny Side of the Street
Someone to Watch Over Me
A Nightingale Sang In Berkeley Square
The Manhattan Transfer - Vocals
Tim Hauser - Vocals
Janis Siegel - Vocals
Alan Paul - Vocals
Cheryl Bentyne - Vocals