MUSIC OF GEORGE GARZONE AND THE TRIADIC CHROMATIC APPROACH
George Garzone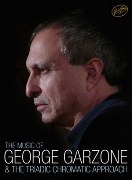 Cat #: JA-D999
Retail Price: $59.95
Our Price: $56.95
This item usually ships within 5 to 7 business days.
Questions?
Please call 1-518-587-1102 or email us.
Edition: 2 DVD Set, All Instruments
Description: 3 Hours+
The Music of George Garzone & The Triadic Chromatic Approach includes 2 DVDs and over 3 hours of material. Made for all instruments.
Performances include:
Solo, Duos, Trios, and Sextet
The Triadic Chromatic Approach includes:
23 Chapters & 30 Examples of In-Depth Lessons
Trading Play Alongs:
George Plays / You Play w/ Rhythm Section
Pure Play Along:
You Play w/ Rhythm Section
Garzone On Sound:
In-depth Lesson of Saxophone Sound Production
PDF Supplements:
Transposed for all instruments, examples, exercises and lead sheets
Bonus Features:
Interviews, Alternate Takes, Extras
Who Can Benefit From This DVD? ANYONE WHO:
Wants to Improve their Improvisation Skills
Wants to Improve their Saxophone Sound & Playing
Wants an intimate and unprecedented access to one of the greatest musicians and teachers of our time
Would like to be inspired to take your playing to the next level and beyond
Wants to improve their time
Triadic Chromatic Approach:
This method is a new innovative approach to jazz improvisation developed and created by George Garzone over the last 25 years of teaching and playing. It teaches you how to generate non permutative lines. That means lines that aren't predictable or repetitive and sound totally fresh. It will allow you to play over chord changes without fear.
Triadic Chromatic Approach includes subtitles in following languages: German - Italian - Japanese - Spanish