NIGHT AND DAY
Recorded by Frank Sinatra
Arranged by Nelson Riddle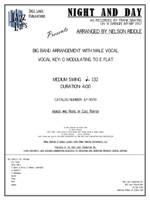 Cat #: JLP-9039
$65.00
This item usually ships within 1 business day.
Questions?
Please call 1-518-587-1102 or email us.
Edition: Jazz Big Band Arrangement with Vocal
Description: Swing - Medium
Publisher: Jazz Lines Publications
In the 1950s Frank Sinatra, along with master arranger Nelson Riddle, recorded a series of hit records for Capitol that arguably captured Ole Blue Eyes at his very best. This arrangement of Night and Day comes from 'A Swingin' Affair', released in 1957. This is an absolute standout treatment of this classic tune. Much like the entire record, this cut is forceful, brassy, and joyous, as Frank leads a standout orchestra playing another of Mr. Riddle's masterpiece interpretations. This chart helps bring to life one of the signature tunes from the strongest period of Sinatra's illustrious career-it was a song that Frank loved and this arrangement brought the song and the singer together in a timeless and magisterial way.
The chart begins with a punchy, brass-led sequence that will immediately grab the listeners. The vocals come in with just baritone sax and rhythm section featuring a riff borrowed from the earlier recording of 'I've Got You Under My Skin.' All saxes then go to clarinets (alternate parts have been included that avoid doubles) while trumpets go to harmon mutes. The string parts have been scored into the clarinets.
There is a cameo trombone solo in the middle of arrangement that has been fully written out. The vocal key begins in D and modulates to E flat. The hard part of this arrangement is achieving that great punchy sound that Riddle was a master at creating.
Full Score
Vocal
2 Alto Saxophones
2 Tenor Saxophones
Baritone Saxophone
4 Trumpets
3 Trombones
Guitar
Piano
Bass
Drums
Vocal Key: D modulating to E flat
Trumpet 1: F6
Trombone 1: B flat 4