SWINGING BAROQUE PLAY-ALONG
12 Pieces from the Baroque Era in Easy Swing Arrangements - Clarinet Edition
Various Composers; Arrangements by Alexander L'Estrange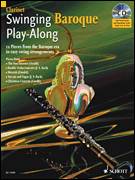 Cat #: 49016693
Retail Price: $19.95
Our Price: $15.96
This item usually ships within 5 to 7 business days.
Questions?
Please call 1-518-587-1102 or email us.
Edition: Paperback Book & CD Package, Clarinet
Description: 32 Pages
Rediscover 12 masterworks from the Baroque era with these fun jazzy arrangements. Easy arrangements by Alexander L'Estrange give an exciting new angle on Handel, Purcell, J.S. Bach and other composers. Complete with accompanying CD containing demonstration versions and live jazz trio backing tracks, plus piano accompaniments in PDF form.Note: Six editions available, catalog numbers 49016681, and 49016692 through 49016696.
ADAGIO (ALBINONI)
ALLEGRO (FROM 'AUTUMN') (VIVALDI)
ALLEGRO (FROM 'SPRING') (VIVALDI)
ALLEGRO (FROM CHRISTMAS CONCERTO) (CORELLI)
CANON (PACHELBEL)
DOUBLE VIOLIN CONCERTO (J.S. BACH)
HALLELUJAH CHORUS (FROM MESSIAH) (HANDEL)
LES PLAISIRS (FROM RECORDER SUITE IN A MINOR) (TELEMAN)
RONDO (FROM ABDELAZER) (PURCELL)
THE ARRIVAL OF THE QUEEN OF SHEBA (HANDEL)
TOCCATA AND FUGUE IN D MINOR (J.S. BACH)
VIOLIN CONCERTO IN A MINOR (1ST MVT) (J.S. BACH)