TEMPTATION
Recorded by Charlie Parker
Arranged by Joe Lipman, Edited by Jeffrey Sultanof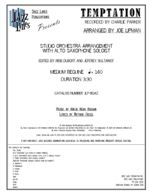 Cat #: JLP-8042
$75.00
This item usually ships within 1 business day.
Questions?
Please call 1-518-587-1102 or email us.
Audio Sample:
Update Required
To play the media you will need to either update your browser to a recent version or update your
Flash plugin
.
View Sample Page:

Edition: Jazz Studio Orchestra Arrangement with Alto Saxophone Feature
Description: Beguine/Swing - Difficult
Publisher: Jazz Lines Publications
Here is Joe Lipman's brilliant big band with strings arrangement that he did for Charlie Parker. This was recorded in 1952 and is presented here directly from the original manuscript. This is NOT a transcription. However, everything Parker played on this recording has been transcribed and presented here as-played, though we have also included (in a separate staff) what was originally written for him. So, this arrangement can certainly be played without the need to mimic Bird. This chart was scored for solo alto sax, 2 altos (both double flute and alto 1 doubles picolo), 2 tenors (both double clarinet), baritone sax (doubles English horn - written in F), 3 trumpets, 2 trombones, 4 violins, 2 violas, 2 celli, harp, guitar, piano, bass, and drums. The brass parts have been augmented to 4 trumpets and 4 trombones. In addition, a baritone sax part with a clarinet double has been included in the event that you don't have access to an English horn.
We can't say enough about this arrangement; this is just fantastic writing from Lipman. After a brief intro, the celli play a brief unison solo line that brings in the medium beguine tempo. Shimmering violins and violas are accented by a guitar and harp syncopated line with flutes and clarinets providing additional color. The chart moves along with celli and violas murmuring in the background. At letter E the feel shifts to medium swing and shortly thereafter enters a written trumpet solo. Charlie Parker then enters with his own solo before the arrangement reverts back to the beguine feel. As the arrangement winds down the syncopated line re-enters with the celli murmurs and trumpets on stem mutes. A vocal sheet has been included so that this may also be used a vocal arrangement (key of C modulating to Eb).
NOTE: This is part of our CHARLIE PARKER WITH STRINGS series of arrangements.
solo alto sax
2 altos (both double flute and alto 1 doubles picolo)
2 tenors (both double clarinet)
baritone sax (doubles English horn - or clarinet)
4 trumpets
4 trombones
4 violins
2 viola
2 cello
harp
guitar
piano
bass
drums