THE ULTIMATE DRUMMERS WEEKEND #11
Australia's Biggest Drumming Festival
Various Drummers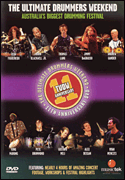 Cat #: 320471
Retail Price: $29.95
Our Price: $23.96
This item usually ships within 5 to 7 business days.
Questions?
Please call 1-518-587-1102 or email us.
Edition: DVD
Description: 220 Minutes
The 11th anniversary DVD features nearly four hours of amazing concert footage, workshops and festival highlights. Includes: over two-and-a-half hours of concert footage • workshops by Thomas Lang, John Blackwell, and Jimmy DeGrasso • Glenn Cannon Band • Rumberos • Drum Expo • Artist Biographies • and much more.