TOMMY EMMANUEL: GUITAR TALK
Includes Tommy's Tips On How He Plays
Tommy Emmanuel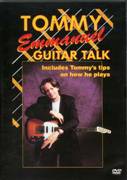 Cat #: 2026825
Retail Price: $39.95
Our Price: $31.96
This item usually ships within 5 to 7 business days.
Questions?
Please call 1-518-587-1102 or email us.
Edition: DVD, Guitar
Description: 76 Minutes
Are you ready to become a better guitar player? Are you interested in seeing how Tommy makes his guitar talk? Either way, youll find this video by Tommy Emmanuel, often called the greatest all-round guitarist in the world today, to be informative and inspirational as he draws on 30 years experience to show you, in typical Tommy style, the essentials of guitar playing. Youll learn how to: --String and tune your guitar so that it stays in tune.
--Develop groove in your rhythm guitar playing.
--Become a one man band play Guitar Boogie solo.
--Make your melody playing more expressive.
--Make music out of scales and make the most of your practice. Whether youre a beginner or a professional, youll find Tommys DVD instructions easy to follow. The segments on rhythm guitar, melody playing and lead guitar are clearly presented and backed up by on-screen fretboard graphics and a pdf file on the disc in music notation for the more advanced player. As you watch Tommy in action, youll get that inside look at what it takes to make you a better guitar player.
Cold Shot
Determination
Guitar Boogie
Hearts Grow Fonder
Initiation - tribute to the Aboriginal people of Australia
Run A Good Race
Silent Night
Stevies Blues