JAZZ AT LINCOLN CENTER ORCHESTRA SEVEN BIG BAND HOLIDAYS ARRANGEMENTS COMPLETE SET
Recorded by the Jazz at Lincoln Center Orchestra
Arranged by Chris Crenshaw, Vincent Gardner, Victor Goines, Carlos Henriquez, Sherman Irby, Wynton Marsalis, and Ted Nash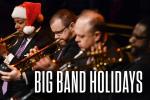 Cat #: JLC-1002
$310.00
This item usually ships within 1 business day.
Questions?
Please call +1-518-587-1102 or email us.
Edition: Seven Jazz Big Band Arrangements
Description: Various Styles and Difficulty Levels
Publisher: Jazz at Lincoln Center
Newly updated as of November 1st, 2022 with Wynton Marsalis's arrangement of It's the Most Wonderful Time of the Year and Victor Goines's arrangement of Zat You Santa Claus!
Here are six of the Jazz at Lincoln Center Orchestra's holiday arrangements, in a complete six chart set at over 10% off of the retail prices.
These charts come from their two Big Band Holidays records, and with one piece each by Sherman Irby, Chris Crenshaw, Ted Nash, Carlos Henriquez, Victor Goines, and Vincent Gardner, this set gives a wide and deep look at the varying styles and abilities of some of the musicians who make up one of the world's best jazz ensembles. With various styles and difficulty levels, vocals and instrumental, this is a diverse and vibrant set of holiday music.
As with all of our sets, these are all available individually, and please click on any of the titles below for much more information on each piece.
JLC-5023 A CRADLE IN BETHLEHEM
JLC-5027 RISE UP, SHEPHERD, AND FOLLOW
JLC-5101 IT'S THE MOST WONDERFUL TIME OF THE YEAR
JLC-5028 ZAT YOU, SANTA CLAUS?