JAZZ ICONS: BUDDY RICH LIVE IN '78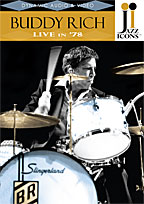 Series 1
Jazz Icons: Buddy Rich highlights the relentless power and unparalleled artistry of the man who was known as The World's Greatest Drummer. This 75-minute concert, taped in Holland in 1978, showcases one of the tightest big bands in history, featuring acclaimed saxophonist Steve Marcus and other members of Buddy's Killer Force, the group he would later call the best band I ever had. Standout performances include Grand Concourse, Big Swing Face, and Channel One Suite, which climaxes in Buddy's signature drum solo. 20 page booklet featuring: liner notes by Dean Pratt; foreword by Buddy's daughter, Cathy; 1978 interview excerpt; rare photographs; memorabilia collage.
The 9 volume Jazz Icons series features classic performances from some of the greatest legends of the past 50 years, captured in their prime in various locations from the 1950s through the 1970s. The DVDs are transferred from the original masters, and each DVD features a 16-page booklet with an essay written by an authoritative jazz historian as well as rare and unseen photos. The series is produced with the full support and cooperation of the artists or their estates, many of whom are contributing rare personal photographs, memorabilia, and forewords. These concerts have never been officially released on home video, and in many cases, the material was never broadcast. We are very proud to present all nine of these DVDs.
"This is like the discovery of a bonanza of previously unknown manuscripts of plays by William Shakespeare." Nat Hentoff, Wall Street Journal.
"These nine historic DVDs are among the most important visual/aural documents to be mined from the ever-yielding, seemingly hidden jazz treasury. Now, most importantly, they are available to the entire world."
Ira Gitler, co-author, The Biographical Encyclopedia of Jazz (Oxford)
"Considering the almost alarming proliferation of jazz DVDs on the market today, and their extremely variable quality, it is good to know that Reelin In The Years can be trusted to bring viewers nothing but the best in content and presentation."
Dan Morgenstern, Director, Institute of Jazz Studies, Rutgers University; author, Living With Jazz (Pantheon Books)
Contents
Ya Gotta Try
Little Train
Best Coast
Grand Concourse
Round Midnight
Birdland
Channel One Suite
Big Swing Face
Musicians
Retail Price: $19.95
Online Sale Price: $17.96
Product Details: DVD (NTSC/ALL-REGION)
75 Minutes
Product Code: 00320618
This item usually ships within 1 business day.