CLASSICS OF THE BRAZILIAN CHORO: YOU ARE THE SOLOIST! - VOLUME THREE
Volume 2; 2nd Edition, Bilingual Portuguese and English
Ernesto Nazareth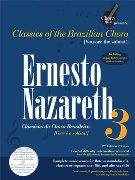 Cat #: 981669168
Retail Price: $29.00
Our Price: $23.20
This item usually ships within 5 to 7 business days.
Questions?
Please call 1-518-587-1102 or email us.
Edition: Paperback Book & CD Package, For Flute or Mandolin, Clarinet or Soprano Saxophone, and Alto Saxophone
Description: 84 Pages
The series Classics of the Brazilian Choro: You are the Soloist! enables you to discover the Choro style through the incomparable experience of performing the compositions yourself, accompanied by a Choro Ensemble. Each volume of the series features a famous composer of this amazing music style, including his/her main compositions in a digitally-mastered audio CD and a high-quality printed music book with the corresponding C, Bb and Eb scores, as well as interviews, biography, and relevance of the author to the history of Choro. Using the CD, listen to the complete stereo tracks (with soloists) for your reference. Tune your instrument (flute, sax, clarinet or mandolin) using the tuning notes. Now have fun being the soloist, using the accompaniment tracks featuring a leading Choro Ensemble from Brazil. Now you can play along with your own "Choro Ensemble," which will always be there for you, whether at home, on the road or at the beach. Have fun and good training! Bilingual: Portuguese and English. Intermediate-Advanced.Note: Several editions available; search for "YOU ARE THE SOLOIST!"
A fonte do Lambary - Ernesto Nazareth
Atlantico -Ernesto Nazareth
Bombom -Ernesto Nazareth
Desengoncado - Ernesto Nazareth
Gaucho -Ernesto Nazareth
Gentes! O imposto pegou? - Ernesto Nazareth
Ideal (bonus track) - Ernesto Nazareth
Julita - Ernesto Nazareth
Labirinto - Ernesto Nazareth
Sarambeque - Ernesto Nazareth
Turbilhao de beijos - Ernesto Nazareth