DRUMMER'S NIGHT IN BOSTON 2005
Chad Smith, John Blackwell, Horatio "El Negro" Hernandez, Simon Kirke, and Eguie Castrillo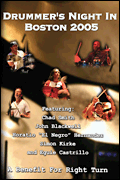 Cat #: 00320592
Retail Price: $19.95
Our Price: $15.96
This item usually ships within 5 to 7 business days.
Questions?
Please call 1-518-587-1102 or email us.
Edition: DVD
Description: 91 Minutes
This DVD documents a remarkable one-night-only performance by five of the biggest names in the drum world, as they play live onstage, both solo and then together in a show-stopping finale in a benefit for Right Turn. You'll experience upclose: the amazing handwork of Prince's drummer John Blackwell; heavy-yet-tasty band approach playing by Chad Smith of the Red Hot Chili Peppers; classic rock icon Simon Kirke; and the firey, polyryhthmic, jaw-dropping ensemble playing of drummer's drummers Horatio El Negro Hernandez and Eguie Castrillo. Drummer's Night in Boston 2005 gives you unlimited access to the artists, with exclusive backstage interviews, and spirited performances captured live with multiple cameras in sparkling digital video and audio.