EAR TRAINING FOR TRUMPET
David Vining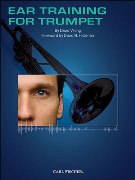 Cat #: ETTP
Retail Price: $14.95
Our Price: $14.20
This item usually ships within 5 to 7 business days.
Questions?
Please call 1-518-587-1102 or email us.
Edition: Paperback Book, Trumpet
Ear Training for Trumpet is one of the first methods to integrate performance on the instrument with singing to enable the player to internalize the music. Written by David Vining, a leading brass educator with extensive orchestral, chamber, and solo performance experience, Ear Training for Trumpet is a comprehensive and progressively organized method for improving the ear of students on any brass instrument. In turn, this brings marked improvement in tone, intonation, pitch accuracy, and musical understanding. The book contains more than 70 exercises in pitch, scales, arpeggios, and intervals, including melodious etudes and orchestral excerpts. A brass equivalent of the ear training method is long overdue, and this book is appropriate for not only young students, but brass students of all ages.