PAT MARTINO: QUANTUM GUITAR COMPLETE
Pat Martino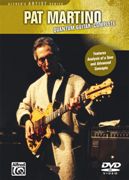 Cat #: 26482
Retail Price: $19.95
Our Price: $15.96
This item usually ships within 5 to 7 business days.
Questions?
Please call 1-518-587-1102 or email us.
Edition: DVD (ALL REGION), Guitar
Description: 224 Minutes
Pat Martino is one of the most legendary and innovative guitarists of all time. This complete DVD combines two of his groundbreaking videos: Advanced Concepts and Analysis of a Tune into one incredibly educational and entertaining piece!
Advanced Concepts is a fascinating study of Martino's approach to contemporary improvising. Featuring Pats personal insight and philosophy, the video includes several inspiring demonstrations and live performances.
Analysis of a Tune features Pat leading his quartet through four complete tunes at the world-famous Knitting Factory in New York City. These mesmerizing performances are highlighted by an in-depth analysis of Pat's tune, "Youre Welcome to a Prayer".
The DVD includes a PDF with transcriptions of the music in both videos in standard music notation and TAB.
Note: Pat's Creative Force Complete DVD is also available, catalog number 26313.