SONNY ROLLINS: SAXOPHONE COLOSSUS
A Robert Mugge Film
Sonny Rollins; Directed by Robert Mugge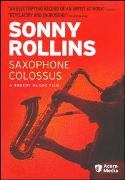 Cat #: 054961816392
Retail Price: $24.95
Our Price: $23.70
This item usually ships within 5 to 7 business days.
Questions?
Please call 1-518-587-1102 or email us.
Edition: DVD
Description: 101 Minutes
Saxophone Colossus is a lengthy documentary of the life and work of jazz saxophonist Theodore Walter "Sonny" Rollins. Clips of Rollins making live music and speaking candidly about his life, creative process, spirituality, and music alternate with interviews of the subject's friends, relatives and co-workers. Recounted for benefit of fans and casual viewers alike are Rollins' years with Babs Gonzales, Thelonious Monk, Bud Powell, Miles Davis and the Modern Jazz Quartet. The film is particularly valuable to jazz buffs in light of the fact that Sonny hadn't made a recording since 1978. A master at conveying the exuberance and artistic significance of African American-based music, director Robert Mugge admirably brings Saxophone Colossus to full and vibrant life.Features the world premiere of Sonny's "Concert for Tenor Saxophone and Orchestra" with the Yomiuiri Nippon Symphony Orchestra.Special feature: Reflections by director Robert Mugge.
A Meditation/"G-Man" [15:08]
Early Days/"The Bridge" [7:44]
A Close Relationship [1:15]
Collaboration and Improvisation [9:47]
Standards/Lucille/Self-Production [5:48]
Preparing the Concerto [5:10]
Concerto for Tenor Sexophone and Orchestra Movements 1, 3, 4, 5, and 7 [2:36]
Proving Himself/"Don't Stop the Carnival" [41:48]