TEACHING LITTLE FINGERS TO PLAY RECITAL PIECES
Teaching Little Fingers to Play/Mid-Elementary Level
Carolyn Miller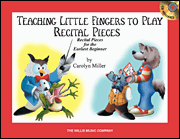 Cat #: 00416672
Retail Price: $15.95
Our Price: $15.15
This item usually ships within 5 to 7 business days.
Questions?
Please call 1-518-587-1102 or email us.
Edition: Paperback Book & CD Package, Piano
Description: 32 Pages
This book contains ten easy solos in several different hand positions and styles, each with an optional accompaniment. These solos can be used as supplementary materials to reinforce reading and playing skills and they can also be played for recital selections or just for fun!