TU PUEDES TOCAR EL SAXOFON YA! VOLUMEN 1
You Can Play Saxophone Now! Volume 1--In Spanish Only
Rogelio Maya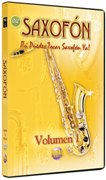 Cat #: SX1D
Retail Price: $19.95
Our Price: $18.95
This item usually ships within 5 to 7 business days.
Questions?
Please call 1-518-587-1102 or email us.
Edition: DVD, Saxophone
Description: 49 Minutes
Learn the important basics for sax playing with this essential course. Covers proper selection of the mouthpiece and reeds, tuning, correct hand positioning for notes, and much more. In Spanish.
NOTE: This DVD is in Spanish only.
Volume 2 also available, catalog number SX2D.Beginning level.