50 YEARS OF SOUL
A Year-by-Year Collection; Piano/Vocal/Guitar
Various Composers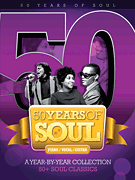 Cat #: 14037674
Retail Price: $19.95
Our Price: $17.96
This item usually ships within 5 to 7 business days.
Questions?
Please call +1-518-587-1102 or email us.
Edition: Paperback Book, Piano/Vocal/Guitar
Description: 288 Pages
A compilation of soul and soul-influenced music, ranging from such classics as "Stand by Me" and Marvin Gaye's "Inner City Blues (Make Me Wanna Holler)" to some surprising modern gems like Portishead's "Glory Box" and Duffy's "Mercy."
In the late 1950s black American music started to fuse the spiritual passion of gospel singing with the gritty sexual drive of rhythm 'n' blues. The result was called soul, Ray Charles was its early pioneer, and so this year-by-year soul collection kicks off with his classic 1959 call-and-response song, "What'd I Say." James Brown, Otis Redding, Solomon Burke and Aretha Franklin all carried soul into the golden period of the 1960s and from then on the genre would be a permanent fixture in the international pop music landscape.
So... get ready to enjoy 50 years of pure soul, the electrifying musical hybrid that never went out of fashion!
Adore
Ain't Nobody
Back To Life
Be Without You
Caught Out There
Crazy
Cry To Me
Doggin' Around
Don't Play That Song (You Lied)
End Of The Road
Glory Box
Happy
Help Yourself
Hot Fun In The Summertime
Human Nature
I Can't Stand The Rain
I Try
I Wanna Get Next To You
If I Could Turn Back The Hands
In The Midnight Hour
Inner City Blues (Makes Me Wanna Holler)
Killing Me Softly With His Song
Knock On Wood
Lean On Me
Love Really Hurts Without You
Love Rears Its Ugly Head
Mercy
Nightshift
No One
On And On
Prisoner Of Love
Right To Be Wrong
Ring My Bell
Rock Your Baby
Saving All My Love For You
The Seed
September
Son-Of-A-Preacher Man
Stand By Me
Survivor
Teardrops
That's The Way Love Goes
These Arms Of Mine
Unfinished Sympathy
Upside Down
Walk Away Renee
Waterfalls
What'd I Say
Word Up
You Might Need Somebody