Blues and the Abstract Truth Charts
In February of 1961, the sessions that later constituted the album Blues and the Abstract Truth were recorded for a new jazz label distributed by ABC-Paramount, Impulse Records. The sessions were produced by Creed Taylor, who would go on to produce classic recordings on the Verve label, and his own CTI label. Oliver Nelson had a career full of highlights by 1961. Originally from St Louis, Missouri, he had played in the bands of Louis Jordan, Louis Bellson, Erskine Hawkins, Wild Bill Davis and Quincy Jones. He had also been a house arranger at the legendary Apollo Theatre in Harlem in New York City. Nelson had made some albums under his own name as well.
But it was this album that became his first masterpiece. An all-star ensemble was assembled: with Nelson were Freddie Hubbard, Eric Dolphy, George Barrow, Bill Evans, Paul Chambers, and Roy Haynes. One of the compositions on the album became a standard: Stolen Moments. The album received ecstatic reviews from the jazz press and has rarely been out of print since its original release. Nelson went from success to success, making big band and small group albums in a variety of settings under his own name and accompanying jazz and pop artists. He composed symphonic music as well, and toured extensively even after he moved to Los Angeles in 1967 and became established in the film and television world. He also gave workshops and seminars. He was only 43 when he died in 1975.
Thanks to an agreement with Oliver Nelson, Jr., these six classic compositions are now available, edited using Nelson's original manuscripts. Nelson now joins the legendary names whose music is now available from Jazz Lines Publications. With the lone exception of Teenie's Blues, all are arranged for alto, tenor, and baritone saxophones, trumpet, piano, bass, and drums. Teenie's Blues was originally arranged for only 2 altos, piano, bass, and drums. We have included parts for tenor, baritone, and trumpet.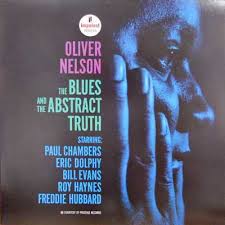 Recorded by Oliver Nelson
Jazz Small Group Arrangement (4 Reeds with Rhythm Section)
Jazz Lines Publications
JLP-8855DL
More Info