ACCORDIN' TO GORDON
Arranged by John La Barbera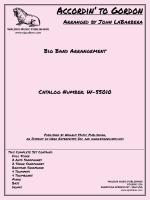 Cat #: W-55010
$65.00
This item usually ships within 1 business day.
Questions?
Please call +1-518-587-1102 or email us.
Audio Sample:
Edition: Jazz Big Band Arrangement
Description: Swing - Difficult
Publisher: Walrus Music Publishing
This John La Barbera composition features a melody that wouldn't sound out of place on a classic Jazz Messengers album. Said melody is handled by trumpet and tenor sax, with the backgrounds from the rest of the horns providing a propulsive lift underneath. The thrilling shout section is quite demanding from a brass range standpoint, so a strong lead trumpet player (and trumpet section in general) is a must. Solos are for trumpet and tenor saxophone.
Full Score
2 Alto Saxophones
2 Tenor Saxophones
Baritone Saxophone
4 Trumpets
4 Trombones
Piano
Bass
Drums
Trumpet 1: F#6
Trumpets 3 and 4: D6
Trombone 1: A4