AIN'T MISBEHAVIN'
Fats Waller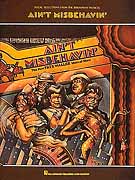 Cat #: HL-359040
Retail Price: $19.95
Our Price: $18.95
This item usually ships within 5 to 7 business days.
Questions?
Please call +1-518-587-1102 or email us.
Edition: Paperback Book, Piano/Vocal/Guitar
Description: 104 Pages
24 vocal selections, including: Ain't Misbehavin' • Cash for Your Trash • Honeysuckle Rose • I Can't Give You Anything but Love • I'm Gonna Sit Right down and Write Myself a Letter • I've Got a Feeling I'm Falling • Jitterbug Waltz • The Joint Is Jumpin' • Ladies Who Sing with the Band • Tain't Nobody's Biz-ness If I Do • That Ain't Right • and more.
(What Did I Do To Be So) Black And Blue
Ain't Misbehavin'
Cash For Your Trash
Find Out What They Like And How They Like It
Handful Of Keys
Honeysuckle Rose
How Ya Baby
I Can't Give You Anything But Love
I'm Gonna Sit Right Down And Write Myself A Letter
I've Got A Feeling I'm Falling
It's A Sin To Tell A Lie
Jitterbug Waltz
Keepin' Out Of Mischief Now
Ladies Who Sing With The Band
Lookin' Good But Feelin' Bad
Lounging At The Waldorf
Mean To Me
Off-Time
Squeeze Me
Tain't Nobody's Biz-ness If I Do
That Ain't Right
The Joint Is Jumpin'
When The Nylons Bloom Again
Yacht Club Swing