AIR FOR ENGLISH HORN AND STRINGS
Conducted by Frank Sinatra
Composed and Arranged by Alec Wilder, Prepared by Jeffrey Sultanof and Rob DuBoff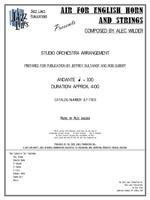 Cat #: JLP-7303
$50.00
This item usually ships within 1 business day.
Questions?
Please call +1-518-587-1102 or email us.
Audio Sample:
Edition: English Horn with Strings Arrangement
Description: Medium Difficult
Publisher: Jazz Lines Publications
This arrangement was conducted by Frank Sinatra and recorded in 1945. Sinatra, a big fan and supporter of Wilder's music, convinced Columbia Records (Sinatra was under contract to Columbia at the time) to record an album of orchestral works with Sinatra conducting. The two men were close personal friends until Wilder's death in 1980 from lung cancer. This piece features an English horn soloist with a string orchestra and percussion.
Full Score
English Horn
3 Violins
2 Violas
2 Celli
Double Bass
Drum Set
Bells