ANGRY MEN
Arranged by Daniel Barry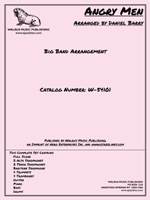 Cat #: W-54101
$60.00
This item usually ships within 1 business day.
Questions?
Please call +1-518-587-1102 or email us.
Audio Sample:
Edition: Jazz Big Band Arrangement
Description: Swing - Medium
Publisher: Walrus Music Publishing
Angry Men combines ideas from Charles Mingus and Leonard Bernstein. Hard blowing ensemble passages are balanced with freely improvised statements for trombone and bass. It was commissioned and recorded by the Jim Cutler Jazz Orchestra.
Full Score
2 Alto Saxophones
2 Tenor Saxophones
Baritone Saxophone
4 Trumpets
4 Trombones
Guitar
Piano
Bass
Drums