AUDRA MCDONALD - BUILD A BRIDGE
Audra McDonald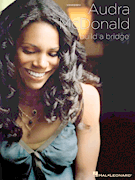 Cat #: 00306970
Retail Price: $19.95
Our Price: $17.96
This item usually ships within 5 to 7 business days.
Questions?
Please call +1-518-587-1102 or email us.
Edition: Paperback Book, Piano/Vocal/Guitar
Description: 104 Pages
This book recreates the remarkable program Audra sang for the American Songbook Series for Jazz at Lincoln Center. It features vocal/piano arrangements for all 13 tunes bridging the work of upcoming and time-tested songwriters.
Bein' Green
Build A Bridge
Cradle And All
Damned Ladies
Dividing Day
God Give Me Strength
I Think It's Going To Rain Today
I Wanna Get Married
My Heart
My Stupid Mouth
To A Child
Tom Cat Goodbye
Wonderful You