BAA BAA BLACK SHEEP
Recorded by the Jazz at Lincoln Center Orchestra
Arranged by Sherman Irby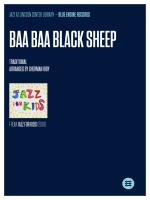 Cat #: JLC-5032
$50.00
This item usually ships within 1 business day.
Questions?
Please call +1-518-587-1102 or email us.
Edition: Jazz Big Band Arrangement
Description: Swing - Medium
Publisher: Jazz at Lincoln Center
Jazz for Kids is a perfect representation of another timeless adage: "jazz is life." There is seriousness in the fun, and there is joy in the seriousness. Music is at its most powerful when it makes one feel connected with the past, and Jazz for Kids breathes new life into songs we think we've known forever. It shows how jazz can elevate even the most minuscule events in life. Jazz for Kids takes simple folk songs and nursery rhymes and turns them into something that you never saw coming.
"Man, you have GOT to check out that version of 'Baa Baa Black Sheep!'" Now there's a sentence I never anticipated writing.
I laughed out loud listening to this album seven times within just the first three songs. This music is hilarious, adventurous, and playful. The arrangements are creative and clever, and listening to it is fun. I knew I was in for a treat within the first seconds of the first song, when I realized that, while it sounded like a brass section was introducing Baa Baa Black Sheep, what we're really hearing is a bleating herd of sheep.
As soon as the bass enters and settles into its steady, mysterious strut, I found myself, as I never had before, actually interested in that 17th century English nursery rhyme. Just how did those three bags of wool get full?
from the liner notes by Joe Alterman
Full Score
2 Alto Saxophones
2 Tenor Saxophones
Baritone Saxophone
4 Trumpets
3 Trombones
Piano
Bass
Drums
Trumpet 1: C6
Trombone 1: G4