BALLAD, A [DOWNLOAD]
Recorded by the Gerry Mulligan Concert Jazz Band
Arranged by Bob Brookmeyer and Gerry Mulligan, Prepared by Jeffrey Sultanof and Rob DuBoff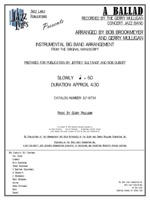 Cat #: JLP-8734DL
$65.00
This product is available for immediate download after purchase.
Questions?
Please call +1-518-587-1102 or email us.
Audio Sample:
Edition: Jazz Big Band Arrangement
Description: Ballad - Medium Difficult
Publisher: Jazz Lines Publications
This Bob Brookmeyer arrangement of the Gerry Mulligan tune was written and recorded in 1961. Mulligan revised Brookmeyer's original arrangement; hence, we have listed both as the arranger. An optional piano part has been added so that this chart may be played by a conventional big band. The arrangement features solos for baritone saxophone and trombone. Lush and dissonant voicings along with great sectional interplay make this a wonderful feature for your baritone saxophonist!
Full Score
Clarinet
Alto Saxophone
Tenor Saxophone
2 Baritone Saxophones
4 Trumpets (Trumpet 4 Optional)
2 Trombones
Bass Trombone
Guitar
Piano (Optional)
Bass
Drums