BALLIN' THE JACK [DOWNLOAD]
Recorded by the Dave Pell Octet
Arranged by Harry Betts, Prepared for Publication by Dylan Canterbury, Rob DuBoff, and Jeffrey Sultanof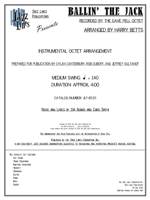 Cat #: JLP-8533DL
$40.00
This product is available for immediate download after purchase.
Questions?
Please call +1-518-587-1102 or email us.
Edition: Jazz Octet Arrangement
Description: Swing - Medium
Publisher: Jazz Lines Publications
One of the earliest examples of a jazz standard, "Ballin' the Jack" may have been composed in 1913, but Harry Betts's arrangement for the Dave Pell Octet gives it a delightfully cozy modern update. This was recorded on the Dave Pell Octet's 1961 Capital Records album The Old South Wails!
A brash and bluesy introduction sets up Pell's entrance with the melody at measure 9. The volume level here should be fairly subdued, and the lack of chordal accompaniment gives this section a notably open atmosphere. The ensemble slowly starts to creep in underneath, with the full band finally joining in with some classic Pell Octet-style counterpoint on the melody's second statement at measure 25.
Following this, there's a chorus of piano solo at measure 41 that leads to an ensemble shout at measure 57. The first part of the shout should be performed at a gentle dynamic level, and features a slightly altered chord progression. The volume rapidly builds up into measure 65, with a Dixieland-influenced send off into a baritone sax solo eight measures later. The baritone gets a full chorus, followed by a recycled intro theme used to set up a half chorus of trumpet solo at measure 97, then a half chorus of bass solo at measure 105. The shout chorus is played once more after the bass solo, with a simple tagged ending before the final mellow chord.
This publication was based on the original parts used during the recording session, supplied to us by Dave Pell - this is not a transcription.
Full Score
Tenor Saxophone
Baritone Saxophone
Trumpet
Trombone
Guitar
Piano
Bass
Drums
Trumpet: G5
Trombone: A4