BARBRA STREISAND SONGBOOK
Music of the Stars Volume 9; Piano/Vocal/Guitar Artist Songbook
Barbra Streisand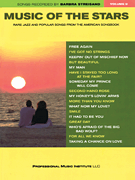 Cat #: HL-1374
Retail Price: $14.95
Our Price: $13.46
This item usually ships within 5 to 7 business days.
Questions?
Please call +1-518-587-1102 or email us.
Edition: Paperback Book, Piano/Vocal/Guitar
Description: 80 Pages
20 gems of the great American songbook as song by the inimitable Ms. Streisand.
The Best Things In Life Are Free
But Beautiful
For All We Know
Free Again (Non... C'est Rien)
Great Day
I've Got No Strings
It Had To Be You
Keepin' Out Of Mischief Now
More Than You Know
My Buddy
My Honey's Loving Arms
My Man (Mon Homme)
Second Hand Rose
Smile
Some Day My Prince Will Come
Taking A Chance On Love
They Didn't Believe Me
(I Stayed) Too Long At The Fair
What Now My Love
Who's Afraid Of The Big Bad Wolf?