BASEBALL SONGBOOK, THE
Songs and Images from the Early Years of America's Favorite Pastime
Jerry Silverman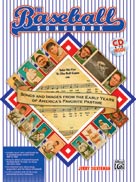 Cat #: 0-27917
Retail Price: $19.95
Our Price: $18.95
This item usually ships within 5 to 7 business days.
Questions?
Please call +1-518-587-1102 or email us.
Edition: Paperback Book & CD Package, Vocals
Musicologist and folklorist Jerry Silverman has compiled this unique collection of 41 of the best baseball-inspired songs from 1867 to 1922-the golden era of the game. The songs in The Baseball Songbook represent the periods in which they were composed, with marches, ragtime, waltzes, two-steps, polkas, jazz, and more. They are descriptive, humorous, and inspirational, and their lyrics mirror the imagery of the time, from the flowery and high-falutin language of the mid-19th century to the raucous and jazzy lingo of the early 20th century. The book is decorated with the charming sheet music covers of all the songs and with many other vintage baseball illustrations. There is also fascinating historical information about the songs, the composers, and the performers, and, above all, the players and teams mentioned in the songs. It includes music, lyrics, and chords for each song and a CD with every song performed by the author.