BENNY CARTER'S CENTRAL CITY SKETCHES: COMPLETE SET OF 6 MOVEMENTS
Recorded by the American Jazz Orchestra
Arranged by Benny Carter, Edited by Jeffrey Sultanof and Rob DuBoff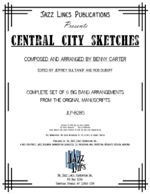 Cat #: JLP-8285
$275.00
This item usually ships within 1 business day.
Questions?
Please call +1-518-587-1102 or email us.
Audio Sample:
Edition: Jazz Big Band Arrangement (6 Movements)
Description: Swing/Ballad/Waltz - Medium
Publisher: Jazz Lines Publications
In 1987, Benny Carter was invited to give a concert of his music with the American Jazz Orchestra. The concert would be a career retrospective: classic music he wrote in the 1930s and '40s, compositions from the '60s, including themes he'd written for motion pictures, and a suite composed specifically for the concert. This suite, Central City Sketches, and the resulting studio-recorded CD released by Musicmasters, were praised by critics who were thrilled that Carter was still creating beautiful, swinging music at the age of eighty. Jeffrey Sultanof was present at that concert, and can attest that the audience went wild when they heard this new music that often recalled Kansas City and the swing era. The sources for these publications are the original parts, which were heavily marked up with changes and corrections that were made prior to the premiere. In one case (People Time) a score that was engraved by Phil Woods was consulted.
Please click here for complete details on all of the arrangements.

Movements 1 and 2 - Central City Blues segue to Hello:
The suite opens with Central City Blues which segues into a Basie-styled Hello. Because the blues cannot be played as a separate composition, it is combined with Hello. Central City Blues has been marked as "low-down and dirty" by the editor, and that's exactly how it ought to be played. A piano solo and a change of tempo brings us to Hello, which is Carter's homage to his friend Count Basie. Carter is quite specific about dynamics here, and they should be observed.

Movement 3 - People Time:
People Time is movement three of the suite (It is often called simply People, perhaps changed to avoid it being confused with the Jule Styne-Bob Merrill standard of the same name.) This gorgeous ballad features a flute solo at the beginning, and then a trumpet solo backed by the ensemble. Like most of Carter's music, it was written for professionals but can be played by many middle-school bands. This is a straight-forward flute and trumpet feature ballad that is played slowly. The opening section features a flute solo accompanied by piano. The pianist should pay close attention to the flute and provide adequate, but not intrusive, support. The flute part was written on reed 1. We have included an alternate reed 1 part (on alto saxophone) and may be used in the event that a flautist is not available. If you wish to use this alternate part this arrangement simply becomes an alto saxophone feature (instead of flute).

Movement 4 - Promenade:
Promenade was originally titled Take a Walk (the title on the parts). This is played at a comfortable 'walking' tempo. Please note the ensemble dynamics at letter A, but please do not overly exaggerate the crescendo. This should not be an sf. Ensemble balance is also important in the playing of this section of the suite.

Movement 5 - Remember:
Remember is a beautiful alto saxophone solo. Please note that sectional unisons should sound as if one person is playing the melodic line.

Movement 6 - Sky Dance:
Sky Dance is an attractive jazz-waltz that should not be played too fast. Once again, flutes and muted trumpets should sound as if they are played by two people so that the ensemble color is clear.
Full Score
Solo Alto Saxophone (on movement 5)
2 Alto Saxophones (Flute double for Alto 2 on movement 6)
2 Tenor Saxophones (Flute double for Tenor 1 on movement 6)
Baritone Saxophone
4 Trumpets
4 Trombones
Guitar
Piano
Bass
Drums