BEST COAST [DOWNLOAD]
Recorded by the Buddy Rich Orchestra
Arranged by John La Barbera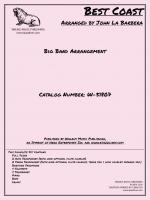 Cat #: W-51807DL
$65.00
This product is available for immediate download after purchase.
Questions?
Please call +1-518-587-1102 or email us.
Edition: Jazz Big Band Arrangement
Description: Swing Waltz - Difficult
Publisher: Walrus Music Publishing
As recorded in 1972 by the Buddy Rich Orchestra on the album Stick It, this jazz waltz has solo space for tenor (or soprano) saxophone and trombone.
From John La Barbera:
I composed and arranged this for Buddy Rich and I feel honored that he played and kept it in his book until his final performance. I believe it was one of his favorite jazz waltzes of all of his repertory. I actually wrote it on a plane on the way to Houston, TX where the band was preparing for its third and final recording for RCA. Because of this hurried scoring, I took a lot of shortcuts and liberties with it that made it a little tedious and unnecessarily cumbersome for some of the sections, especially the trombones. This new edition is from my original score and in addition to adding a 4th bone part, I have very lightly rescored some of the backgrounds to be more playable and less tiresome, I think for the better. I have also included alternate saxophone parts to cover the flute parts if those doubles are not available in your ensemble. I also included suggested, lower tenor parts to avoid high Fs. When using these substitute parts, the saxes play the pitches (cued notes) written below the flute part. There is a tendency to play this too fast as one can see in many YouTube videos but I feel it should be as indicated. This is dedicatedto the late Rick Culver who was a close friend and the original trombone soloist on the recording.
Full Score
2 Alto Saxophones (both have optional flute doubles)
2 Tenor Saxophones (both have optional flute doubles, tenor sax. 1 also doubles soprano sax.)
Baritone Saxophone
4 Trumpets
4 Trombones
Piano
Bass
Drums
Trumpet 1: E6 (optional A6)
Trombone 1: Bb4