BLACK, BROWN, AND BEIGE COMPLETE SET
Arranged by Duke Ellington, Prepared by Rob DuBoff, Dylan Canterbury, and Jeffrey Sultanof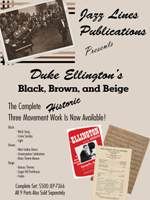 Cat #: JLP-7366
$500.00
This item usually ships within 1 business day.
Questions?
Please call +1-518-587-1102 or email us.
Edition: Jazz Big Band Arrangement
Description: Swing/Ballad/Latin - Difficult
Publisher: Jazz Lines Publications
Duke Ellington's Black, Brown, and Beige remains one of the seminal works of his legendary career. Described by Ellington as being a "tone parallel to the history of the American Negro," it was easily the most ambitious project of his career upon its composition over the course of 1942. Ellington commenced work on this magnum opus shortly after the conclusion of one of his other early experiments at longer musical forms, 1941's jazz musical Jump For Joy.
Surprisingly, the piece was only performed in full on three occasions: a sneak peak debut at Rye High School in Westchester County, NY on January 22, 1943, a premiere performance at Carnegie Hall the following night, and finally at Boston's Symphony Hall on January 28. From this point forward, the band would only perform individual movements, as Ellington felt that the overall length and subject matter of the piece would make it inaccessible to most audiences.
At first, the piece received, at best, mixed reception from critics and audiences alike. Many expressed skepticism over Ellington's desire to tackle more challenging, long-form musical material, with critics from several newspapers expressing their beliefs that Ellington was getting in over his head attempting to merge jazz with more "artistic" forms of music. This lukewarm reception would come to be disregarded by the time Ellington entered the studio in 1958 to record a revised version of the suite in full, this time featuring edited sections to feature renowned gospel vocalist Mahalia Jackson. This version received much more widespread critical acclaim than the original performance, and is considered to be one of the cornerstone entries of the Ellington discography.
Black, Brown, and Beige represents several major innovations in the world of jazz. It was Ellington's first major attempt at a long-form composition, consisting of three main parts in a quasi-symphonic structure, with instrumental soloists oftentimes being cast in roles that were more akin to opera than traditional big band writing. The work also tore down political and cultural barriers, as it openly attempted to present jazz in artistic rather than popular terms, as well as celebrating African American culture while doing so. These key innovations make Black, Brown, and Beige stand out as a transcendental work of not just Ellington's expansive catalog, but Western music in general.
Black: Work Song
Black: Come Sunday
Black: Light
Brown: West Indian Dance
Brown: Emancipation Celebration
Brown: Blues Theme Mauve
Beige: Various Themes
Beige: Sugar Hill Penthouse
Beige: Finale
Full Score
Vocal (on The Blues Theme Mauve)
2 Alto Saxophones
2 Tenor Saxophones (Tenor 1 Doubles Clarinet)
Baritone Saxophone (Doubles Clarinet and Bass Clarinet)
4 Trumpets
3 Trombones
Guitar
Piano
Bass
Drums
See Individual Movements