BLUES MY NAUGHTY SWEETIE GIVES TO ME
Recorded by the Dave Pell Octet
Arranged by Bob Florence, Prepared for Publication by Dylan Canterbury, Rob DuBoff, and Jeffrey Sultanof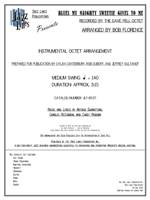 Cat #: JLP-8537
$40.00
This item usually ships within 1 business day.
Questions?
Please call +1-518-587-1102 or email us.
Edition: Jazz Octet Arrangement
Description: Swing - Medium
Publisher: Jazz Lines Publications
Although it doesn't follow the traditional blues form, Blues My Naughty Sweetie Gives to Me certainly contains all the other key elements of the genre. A standard that has been covered countless times in countless ways, this Bob Florence arrangement for the Dave Pell Octet shows that the tune fits in just fine with that band's light and easy style. This was recorded for the 1961 The Old South Wails! album.
A steady walking bass line sets up the melody in the baritone sax and trombone at measure 5, eventually joined by a sinuous counter line in the trumpet, tenor sax and guitar at measure 21. The lack of chordal accompaniment during most of the melody only aids in creating an open, airy atmosphere. The horns come together in rhythmic unison at measure 29 for the end of the melody and a short Count Basie inspired shout chorus before backing out of the way of a chorus of solo tenor sax.
This shout chorus figure is re-used at measure 69, but rather than setting up another solo, it announces the return of the melody (accompanied by a dramatic decrease in volume) at measure 85. The arrangement slowly begins to wind down at measure 101, starting out at full strength but gradually shedding instruments and dynamic levels as the performance progresses. Things ultimately wrap up the same way they started - with just a walking bass line buoyed by some lightly tipping time from the drums.
This publication was based on the original parts used during the recording session, supplied to us by Dave Pell - this is not a transcription.
Full Score
Tenor Saxophone
Baritone Saxophone
Trumpet
Trombone
Guitar
Piano
Bass
Drums
Trumpet: C6
Trombone: C5