BLUESY BALLAD
Arranged by Don Bowyer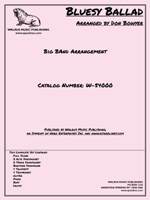 Cat #: W-54000
$50.00
This item usually ships within 1 business day.
Questions?
Please call +1-518-587-1102 or email us.
Edition: Jazz Big Band Arrangement
Description: Ballad - Medium Difficult
Publisher: Walrus Music Publishing
The title says it all on this slow tune with a 12/8 triplet feel. Guitar is featured with a beautiful melody and a short improvised solo. Easy licks, but medium difficulty for the slow triplet feel.Lead trumpet to G5.
Full Score
2 Alto Saxophones
2 Tenor Saxophones
Baritone Saxophone
4 Trumpets
4 Trombones
Guitar
Piano
Bass
Vibraphone (optional)
Drums
Trumpet 1: G5