BLUFF POINT [DOWNLOAD]
Arranged by John La Barbera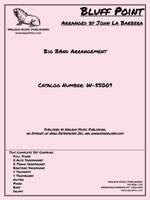 Cat #: W-55009DL
$55.00
This product is available for immediate download after purchase.
Questions?
Please call +1-518-587-1102 or email us.
Edition: Jazz Big Band Arrangement
Description: Swing - Medium Easy
Publisher: Walrus Music Publishing
Bluff Point is a minor blues with a bridge, however the improv is just a 12 bar minor blues. A tenor sax feature, it can be opened up for piano and guitar. The shout chorus and ensembles sound larger than their difficulty. The close voicings in the statements of the melody are tempered by keeping the voicings seperated among the horns. This makes intonation easy. Dedicated to Fred Baker, Fred was a great friend, talented musician and band director. It was he who asked me to write this chart early in my career. Because most of my writing was for professional big bands, it generally was too hard for H.S. Students. He asked me to write something more accessible for young musicians and "Bluff Point" was the result. Trpt 1 to written A above staff. 5/4/4/G/P/B/D. Easy-Medium.
Full Score
2 Alto Saxophones
2 Tenor Saxophones
Baritone Saxophone
4 Trumpets
4 Trombones
Guitar
Piano
Bass
Drums
Trumpet 1: A5
Trombone 1: G4