CAMPTOWN MARCH AND BLUES [DOWNLOAD]
Recorded by the Dave Pell Octet
Arranged by Jerry Fielding, Prepared for Publication by Jeffrey Sultanof, Dylan Canterbury, and Rob DuBoff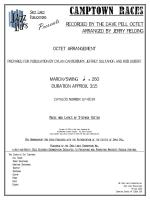 Cat #: JLP-8539DL
$50.00
This product is available for immediate download after purchase.
Questions?
Please call +1-518-587-1102 or email us.
Edition: Jazz Octet Arrangement
Description: March/Swing - Advanced
Publisher: Jazz Lines Publications
Jerry Fielding received his greatest acclaim for his work scoring films for Sam Peckinpah and Clint Eastwood, but prior to this he made his name as an inventive arranger for a number of dance bands in the 1940s and 1950s. His take on Stephen Foster's classic Camptown Races for the Dave Pell Octet is a thorough de- and re-construction of the tune that includes an incredible amount of twists and turns in a relatively short package. It will push your ensemble to their technical and musical limits, but when performed well is a guaranteed show-stopper.
The arrangement can effectively be viewed as a theme and variation in three parts. The first variation is a brisk march that sees the melody broken up and re-assembled to the point of making it nearly unrecognizable. Rhythmic and harmonic alterations abound, ranging from the dark and imposing to the downright comical. The extensive interplay between each instrument's line requires your musicians to act as if they are a racehorse with the blinders on, focusing exclusively on their own part without getting distracted by everything else going on around them.
Eventually the chaos settles down and the arrangement moves into variation two at measure 89. The tempo drops off substantially, with a few short double-time sections to provide a pinch of brightness. The melody is passed around between all four of the horns, each player displaying a unique personality that nonetheless complements one another, ranging from the romantic to the guttural.
Variation three comes out of almost nowhere, with a four bar drum break bringing things back up to a quick tempo. The band is in all-out swinging mode at this point, displaying the Pell Octet's signature light and airy sound. Measure 130 sees the chart's only improvised solo, 16 bars of piano with some very simple horn backgrounds underneath. Keep an eye out for some of the slightly displaced rhythms in the horns after the solo. The arrangement wraps up with an extended tag that is rhythmically fairly basic, but harmonically a little more intricate. The riff eventually eases into a nice, bluesy ending chord and a crisp rhythm section hit.
This publication was based on the original set of parts used by the Dave Pell Octet and supplied to us by Dave himself.
Full Score
Tenor Saxophone
Baritone Saxophone
Trumpet
Trombone
Guitar
Piano
Bass
Drums
Trumpet: Bb5
Trombone: B4