CARIOCA, THE
Performed by Buddy Rich
Arranged by John La Barbera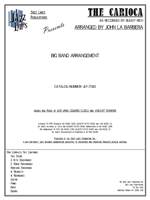 Cat #: JLP-7582
$65.00
This item usually ships within 1 business day.
Questions?
Please call +1-518-587-1102 or email us.
Edition: Jazz Big Band Arrangement
Description: Swing - Difficult
Publisher: Jazz Lines Publications
From John La Barbera:
"In 1982, the Kool Jazz Festival commissioned me to transcribe and rearrange pivotal arrangements performed by Buddy early in his career for a retrospective of his life in music for a concert held at Carnegie Hall, June 27, 1982. The Carioca, which he recorded with Artie Shaw in 1939, was one that truly excited the audience. Buddy, though he rarely looked back at prior work or popular moments in his life, chose to keep this chart in the book and performed it regularly. It is very accessible to most all-high school and college level ensembles and offers solo opportunities for soprano sax (with option clarinet)."
Full Score
2 Alto Saxophones
2 Tenor Saxophones
Baritone Saxophone
4 Trumpets
4 Trombones
Guitar
Piano
Bass
Drums

Trumpet 1: F#6
Trombone 1: A4