CLOTH OF SILVER THREADS OF BLUE
Arranged by John La Barbera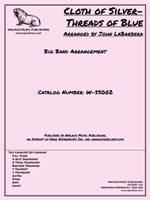 Cat #: W-55002
$65.00
This item usually ships within 1 business day.
Questions?
Please call +1-518-587-1102 or email us.
Audio Sample:
Edition: Jazz Big Band Arrangement
Description: Swing - Difficult
Publisher: Walrus Music Publishing
This chart is dedicated to Horace Silver & Blue Mitchell. Written in a small group within a big band, it contains all of the elements of Horace's style. Solos for piano & trumpet. Difficult. As recorded by the John La Barbera Big Band on 'On The Wild Side' on Jazz Compass.
Full Score
2 Alto Saxophones
2 Tenor Saxophones
Baritone Saxophone
4 Trumpets
4 Trombones
Piano
Bass
Drums