CRAZY RHYTHM
Arranged by Benny Carter, Prepared for Publication by Rob DuBoff and Jeff Sultanof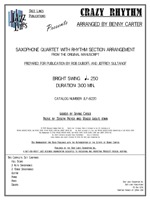 Cat #: JLP-8220
$50.00
This item usually ships within 1 business day.
Questions?
Please call +1-518-587-1102 or email us.
Audio Sample:
Edition: Jazz Octet Arrangement [4 Horns with Rhythm Section]
Description: Swing - Medium
Publisher: Jazz Lines Publications
This swinging arrangement of the standard Crazy Rhythm was written and recorded in 1961 for the Further Definitions album. This chart, unlike most of Carter's other sax ensemble arrangements, was written for 2 alto saxophones and 2 tenor saxophones with no baritone saxophone. The arrangement features an open solo section.
Full Score
2 Alto Saxophones
2 Tenor Saxophones
Guitar
Piano
Bass
Drums